Carry Akroyd
"I'd long admired the observant realism of her Fenland Paintings – straight dykes running to the skyline, square arable fields sinuating with tractor tracks, tangled marshes where lapwings flicker in black and white, and level horizons pierced by wind turbines and smoking brick field chimneys"
                                                                   Christopher Somerville in the 'Times' newspaper, November 2013
Every now and then I stumble across an artist that I would say is quintessentially English. There are plenty of painters creating coastal views, paintings of weather, but they all seem to me to follow a predictable path. Now and then though, an artist strikes a different path and produces something that perhaps captures the essence of a place in a quirky peculiarly local manner.
Showing at the Towner Gallery in Eastbourne is an exhibition of the work of an artist that created some views of the Downs that have rightly become iconic. Unfortunately robbed from us by war just as his work was maturing into something different artist/illustrator Eric Ravillious was another I would say was quintessentially English. Ivon Hitchens was too, but there has been a dearth of artists that are faithful to a view of our native land untrammelled by the curious internationalism that drives so much of the British art world.
Some years ago, five or six now I suppose, my partner and I were scouting out parts of England to find somewhere to settle for the rest of our lives. I had memories of Shropshire I treasured so we spent time looking in that part of Britain and along the Welsh border through its beautiful valleys and woods. Along the way we visited Hay-on-Wye during the 'Literary Festival'. Wandering through the associated exhibitions we stumbled into a small show of work by an artist called Carry Akroyd, an exhibition that mixed her love of the countryside of the Fens and Huntingdonshire with her admiration for the work of poet John Clare.
John Clare was a major English poet of the 19th Century, marking the changes in the countryside through enclosures and the industrialisation of England, an early environmentalist even, suffering from depression and eventually becoming institutionalised in a psychiatric hospital. The Agricultural Revolution saw pastures ploughed up, trees and hedges uprooted, fens drained and common land enclosed, all responded to through Clare's work.
Akroyd lives and works in the landscapes Clare belonged in, and his words are used extensively through her printmaking. Her landscape images look at the relationship between the impact of farming and people on wildlife and landscape alike. Recently she issued her second book celebrating in print her painting, silkscreen prints, lithographs, linocuts and illustration work, using as a title 'Found in the Fields'. John Clare said he found his poems in the fields and only had to write them down. Akroyd sees herself as a "kind of director, trying to illuminate the poet's unique voice".
She is of course, rather more than this. Like Clare she responds to the 'call of the wild' storing visual images up until back in the studio where she forms impressive memory images capturing the essence of her landscapes in a vision of breath-taking colour and delightfully evocative imagery. Like Ravillious she has a strong element of the illustrative in her work (as does perhaps Hockney or Caulfield) but unlike an illustrative genre hers is the philosophy of Clare, the sorrowing eye recording the glories of an English landscape under threat, under change, perhaps vanishing forever under the pressures of England's growing population.
Throughout the beautifully printed book (produced in Norfolk) Akroyd discusses her working practices. I delight in the way in which she talks of the translation of sketches done outside into artworks, whether onto litho plates or into other media. She is inventive, using collage, cut paper stencils into prints or painting in a variety of media. She is not bound by any tradition and creates her own working pathway which she shares in the book.
What I find most pleasing is the way in which she weaves contemplation of the threads of life seen in field and her garden through into her work, weaving too a thread of Clare's poetry throughout. This is a creative marriage of poet and painter that produces a result that embellishes the work of both.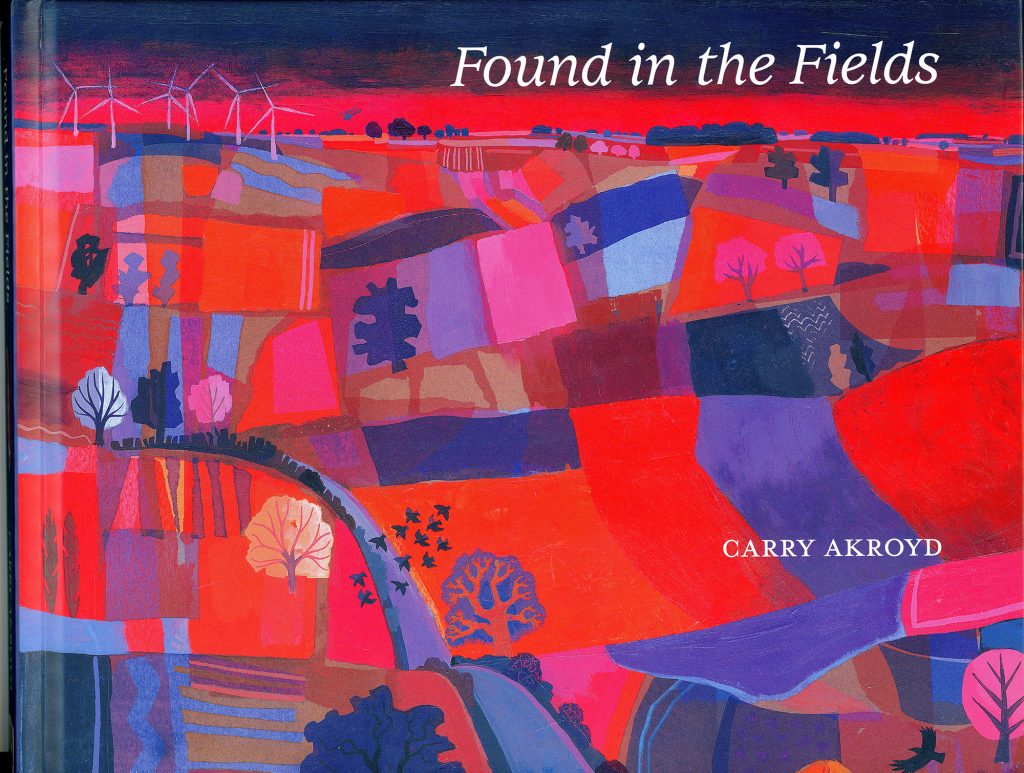 If you haven't seen Akroyd's work I recommend you take any opportunity that presents itself to do so. She has touring exhibitions and as I write her work can be seen in the Platform Gallery in Clitheroe, but she places details on her website at www.Carryakroyd.co.uk