I've stalled. Again! I know what I need to do – head down, centralise direction and wait for the speed to rise, nose to lift and full flight recover. At the moment the spin continues as I racket back and forwards – working on another peg series that is enjoyable but not really coming together and looking back over past works as I feel I need to rework some ideas.
I recently was asked to verbally review some artwork in a gallery. I am used to being a design critic as those who read the various design magazines my words appeared in previously will know. I have criticised other art works on this site – notably the Eric Gill at Ditchling and the Bridget Riley in Bexhill, but this is the first time I have had to do a 'crit' on the hoof since leaving art college teaching. I made some observations about what the imagery of one artist said about their repressed state of mind. It appears from what was then said this analysis was only too accurate.
Relaying this to my partner at home she neatly turned this back on me. "did the grid" of squares I have used for years, represent "the same mental repression I was criticising in the other artists' work" she asked? This brought me up short. I have used the grid for many years, for many of which I was locked into a marriage that was loveless. I justified the grid in terms of it being a symbolic representation of the way politics and social rules distort and move the colour in individuals' lives. Maybe it did indeed reflect a suppression of recognition my marriage was dead?
Does the gradual death of the grid over the last series of paintings reflect my increasing sense of love and security here in Seaford? There are many reasons why this may be true. I am now almost fully recovered from the treatments and five operations of the last few years dealing with my cancer and kidney problems. I am wrapped in the love of a woman who has been instrumental in enabling my healthy recovery – from sustaining me through the aftermath of divorce (we met on a web dating site after I was alone), helping cure my diabetes and gently sustaining my recovery from the cancer. She also found the advert that led to my becoming a bell ringer. Curious that bell ringing, for as a nerdish obsession it has provided comradeship with other ringers, a learning process that marries the physical and mental together and pulled me more firmly into the local community. After 15 months of ringing I am still learning and am becoming convinced too that the ringing is contributing to the improvement in my health. Certainly, after ringing quite intensively this past week I have noticed an improvement in my back pain! Of course, I am hooked too!
Meanwhile the painting is in the doldrums. A half-finished peg painting on an easel, peg drawings populating the studio walls in increasing number and my mind spinning ahead to other painting ideas that the removal of the grid has opened. I know that I started to deliberately make the paintings more complex, to play more with artistic and colour conventions because I suspected the ease my early success in first exhibitions in Brighton in the mid-1970's. I am suspicious of returning to anything similar but yet I also recognise that I am more knowledgeable and experienced now so am likely to progress in a different way.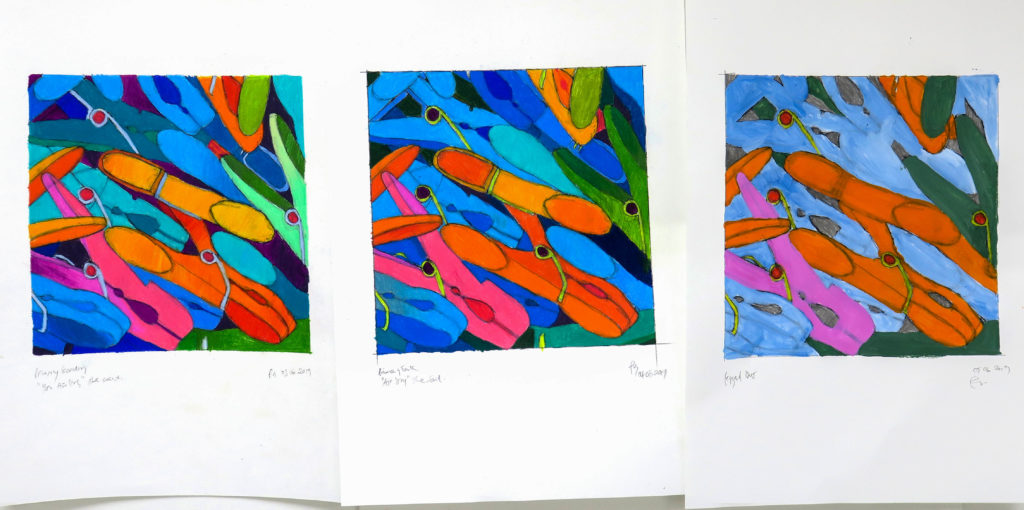 So here I am, approaching an 'open studio' event for the local Art Wave and another one man show set for April, dithering once more about finishing pieces of work and indulging in displacement activities. I know that such dithering produces results and is, it seems, and inevitable part of my processes. It may also be down to me getting old. Despite this I feel more engaged in my art than at any time since the late 1970's, more excited by what is slowly turning over in my mind as well as what is appearing on paper and canvas.
The images here show how my work has progressed over the years. Amazing that the Arts Council, in the form of North West Arts, should purchase and lose a large painting, that a college should similarly acquire and lose another. I keep on working, selling and as I have said before, quoting Popeye the Sailor Man, "I yam what I yam".
It helps to talk about it with others, so if you are on the South Coast towards the end of August or beginning of September, why not come into my studio chaos and talk art/process with me? Watch out for the Art Wave posters. I am in Seaford and will be opening for most of the Art Wave timetable and map to be found in the local (Lewes and Seaford) Tourist offices.
(11:00hrs – 17:00hrs • August 17 18 – August 21 22 23 24 25 26 – August 29 30 31 01
Hopefully by then work will be in full flow