It started with a 'bucket list'. After twenty years travelling Europe, the US and Africa there are a few places I still want to visit – and no, I don't need anymore suggestions, thanks… In the past I have visited over 30 countries, but there are places I still want to go, experiences I still want to have.
Many of the trips have been built around art experiences. Hotels to be reviewed chosen because, for example, hotels in Chicago enables me to go to Oak Park and write about Frank Lloyd Wright. Another trip chose hotels in Germany to enable me to tour the Bauhaus in Weimar, Berlin and Dessau. One of the European cities I haven't been to yet was Lisbon, and it was on my list, so when my partner said she had found a 'cheap flight two city break' offer I agreed we should go.
My trips in the past have been structured around design and critical writing. Sadly, I don't know how to do 'holidays' but in the aftermath of my cancer treatments I am having to learn to live differently. Even working in the studio is now approached with a completely different mind-set, it no longer being the central focus of my life but a part of its enrichment, much as photography is.
My first 'holiday' trip was to Cyprus which ended with the cancer diagnosis (and even that was back to places I was in as a child to see what influenced my visual acuity). Recovery was lengthy, and the studio played its part in that. The next trip was to Tenerife where the art of César Manrique dominated. My trips to South Africa continued to be about family, landscape and wild life (although last time there was the new Zeitz Gallery too), but for Portugal I had no plan other than to see the monument to explorers, although I will admit that the Sharpe stories fictionalising England's part in keeping the country out of Napoleons Imperial forerunner to the EU also sharpened my curiosity.
Initially we stayed in Porto. A lovely place I would go back to like a shot. I love walkable cities and Porto is eminently walkable. The old part of the town is full of interesting buildings and whilst the harbourside is, of course, overrun by tourists, the streets were not. Steep hills made the six miles a day we walked challenging, but my fitness is better than ever, and we enjoyed our strolls.
Lisbon is larger. It is not so enjoyable to me, despite the scent and colour of its jacaranda trees. Its scale meant using public transport most of the time, and its popularity with tourists and cruise lines meant that there were queues for many of the attractions that put us off visiting them. The pavements are slippery and made walking stressful and so much less enjoyable than in Porto. The galleries and attractions are far apart and unlike the Douro in Porto the Tagus in Lisbon is extremely wide and basically unattractive.
My partner has always had her agenda too, so we trooped off to visit Jerόnimos Monastery, and extravagant wedding cake piece of architecture showing how the Catholic church enriched itself rather than helping the poor. It contained impressive examples of tile work, Portugal's national art form for which there is a dedicated and worth a visit museum. The monastery is also close to the 'padrao dos descobrimentos' monument (top) which is part of my bucket list, so from the monastery we walked along the bank to the 15th Century Tower of Belem passing the monument along the way.
That day it was 36 degrees, so spotting the bright red sign for the MuseuBerardo offered a haven of air conditioning in the heat. Finding the way in was an adventure that could have been more easily resolved if the designer of the wayfinding system had stuck with the colour of the river bank sign. Eventually we found a way in, and what a revelation it was.
My enjoyment of work is defined by my exposure to art through the sixties, where trips from Corsham to visit the Tate (then Tate Britain was the only Tate) and its round of great shows educated my aesthetic sensibility, along with a succession of brilliant shows at the Hayward, a gallery that has disappeared into mediocrity in later years. So, to find echoes of this past pleasure throughout the Berado Museum was a great delight.
So many of the artists I wrote about in Collecting Artists Prints are featured amongst other greats with their large canvases in the Berardo: Patrick Caulfield, Joe Tilson, Tom Philips, Peter Philips, Andy Warhol, along with an early (1937) Henry Moore constructivist piece and a very early Nicolson abstract. It was especially delightful to see the work of one of my tutors in college, Mike Kidner hanging next to a Bridget Riley. It amuses me to think what he might have said about the juxtaposition of works after the argument about 'Systems' painting I had with him over dinner at his house a few years after I left Corsham.
The Berardo also is strong on photography, and seeing photos exhibited in the same gallery as the modern masters only emphasised how few photographers raise the medium up to a comparable art form with painting – maybe something the 30 billion images on the web now will stimulate artists rising to the challenge of lifting photography into a great art form (as meanwhile much of painting descends into the decorative arts, interior decorations).
I remember as a new art student in 1966 attending the first Brighton Festival where the conference discussed 'What is ART', and asking, in my new student innocence, the assembled luminaries and artists to tell me 'what is art', and of course hearing nothing in return except a stunned silence after they thought they had spent two days explaining exactly what the mythical beast is with Malcolm Hughes style elliptical verbosity.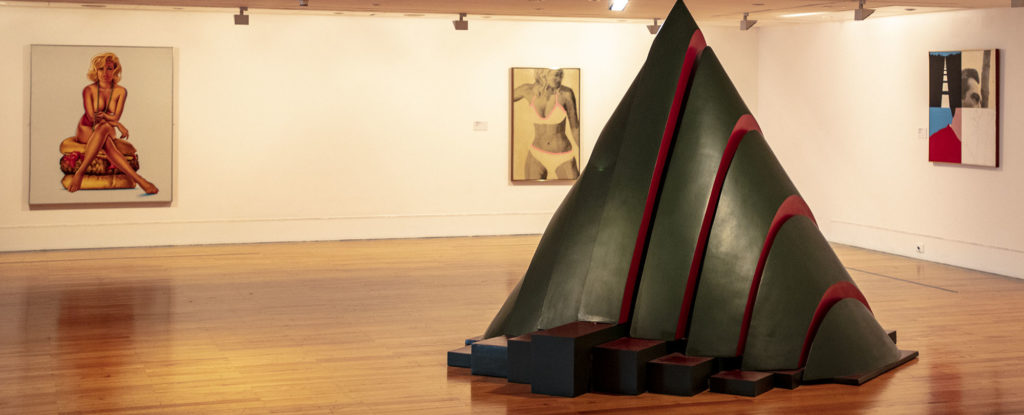 I sat on a hill and painted water colour landscape as I reviewed the years in college, then set about rebuilding my own working oeuvre. Berado fed me work I was comfortable accepting, understanding as advancing visual knowledge, as being what art is about. My struggles are by no means resolved so to see arguments so beautifully reiterated by modern masters was very comforting. Visual comfort food perhaps. But then I've been that 'fool on the hill' ever since college, nothing changes….