I don't enjoy drawing in public. I mean by that working away with a cluster of people, ebbing and flowing, constantly changing, peering over my shoulder. I used to work in the studio when teaching but then always prepared to talk to my students about what I was doing, why and how, as it was all a part of their learning experience. Trying to explore some specific piece of the BRotS for example, means doing it quickly before the curious gather, and using the camera a great deal. I am fortunate that the camera I use has a large sensor, 55 megapixels, which enables me to enlarge images to select information I can use, so every walk becomes a treasure hunt – and treasure abounds.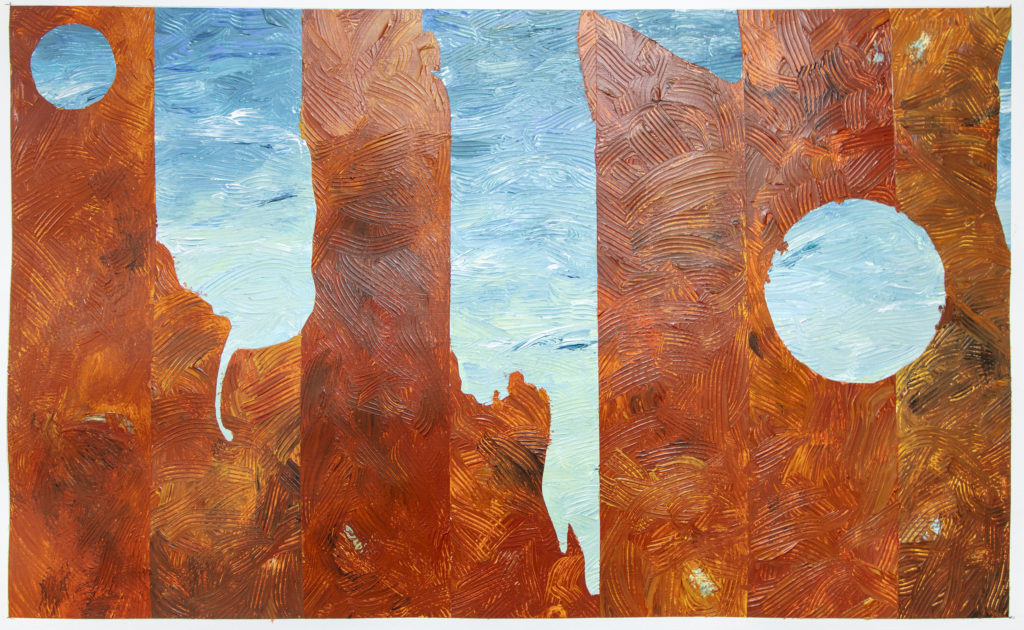 BRotS#52 'Chocolate Teapot' shows the erosion on the metal guards to the Coastguard Cottages making them like a sieve rather than a defensive wall. About as much use, in fact, as a chocolate teapot. Acrylic on 300gsm paper primed with gesso. A1 
My favourite walk, from the Barn to the Cuckmere via Hope Gap stairs and then along the shoreline if the tide was right, has gone out of reach because of my increasing disability due to problems that have their roots in my youthful adventures abetted by some growing arthritic problems. I am more limited now so one of my two areas to harvest, the sea defences around the Cuckmere and the Coastguard Cottages has become less accessible to me. Fortunately, Splash Point and the metal defences of the groyne there remain easily accessible.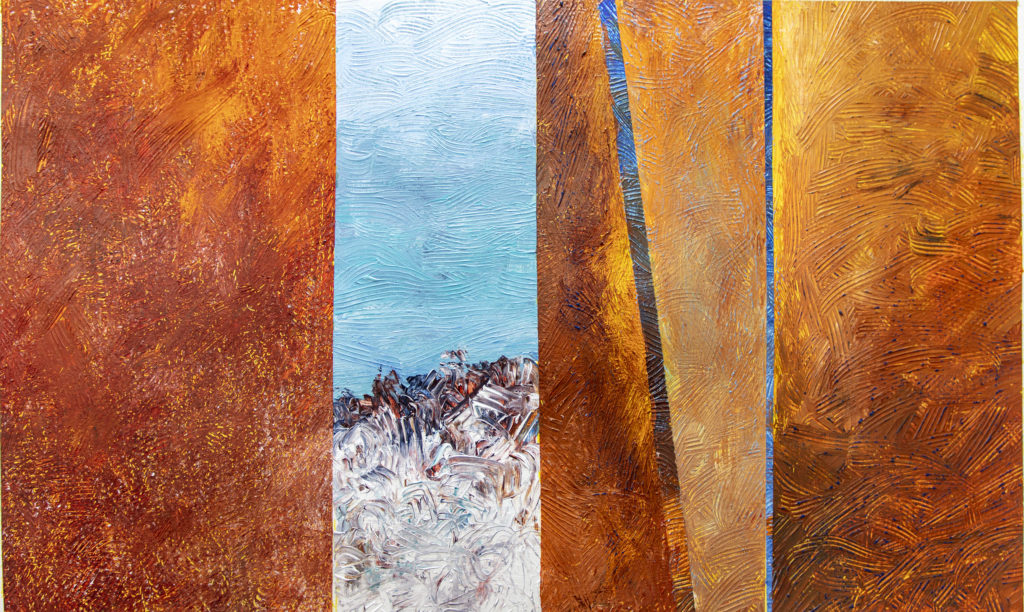 BRotS#50 'Sea Through'. pebbles break the plates apart as well as rattling through like machine gun bullets, leaving holes through which chalk and the sea can be seen. Acrylic with oil pastel additions on 300gsm paper primed with 3 coats of gesso ground
Despite the difficulties my most recent work has come out of the shocking imagery showing the deterioration of the defences of the iconic cottages. Used by Microsoft to produce the screensaver for one of the iterations of their operating system the view of the Seven Sisters from behind the cottages is one of the worlds' most popular screensavers (it would be terrific if Microsoft could help save them). My recent photographs show how the metalwork, no longer backed by substantial concrete defences, and neglected by the Environment Agency, has become like a lacy decoration, about as much use in defence as a chocolate teapot would be. However, it has made for some stunning imagery to explore.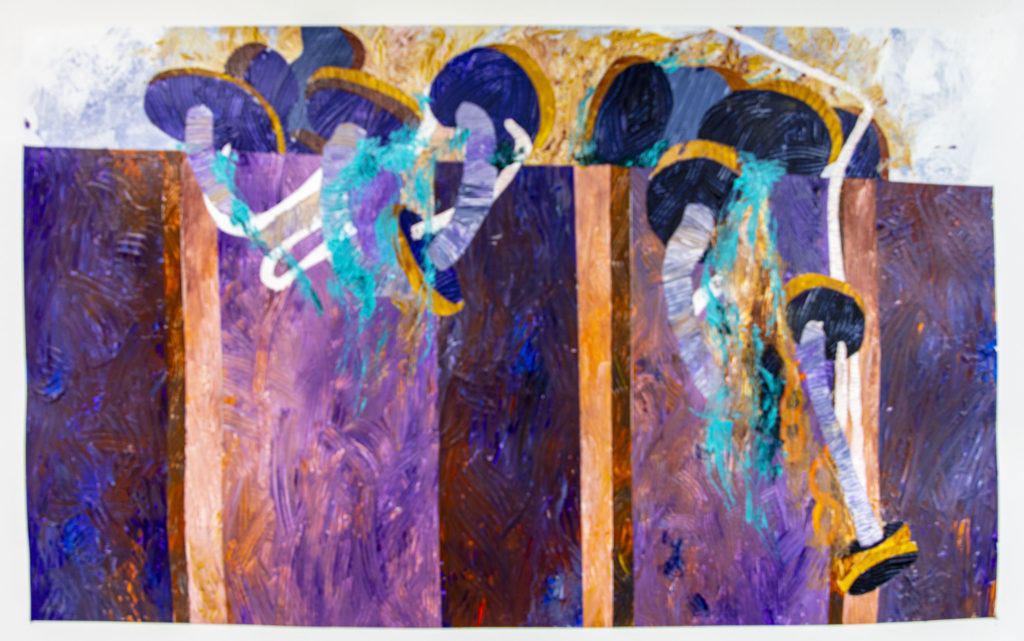 BRotS#54 'Fisherman's Tackle', acrylic on 300gsm paper A1 size
The metalwork is ever changing in appearance reflecting its exposure to time and tide, weather and light. It is a joy to bring the images into the studio to study the subtle and sometimes not so subtle colour variations on the metal. A recent stroll to Splash Point produced a counterpoint to the chocolate teapot images in a startling colouration produced by a combination of low tide and misty diffusion of the light which I am now having fun exploring in the studio.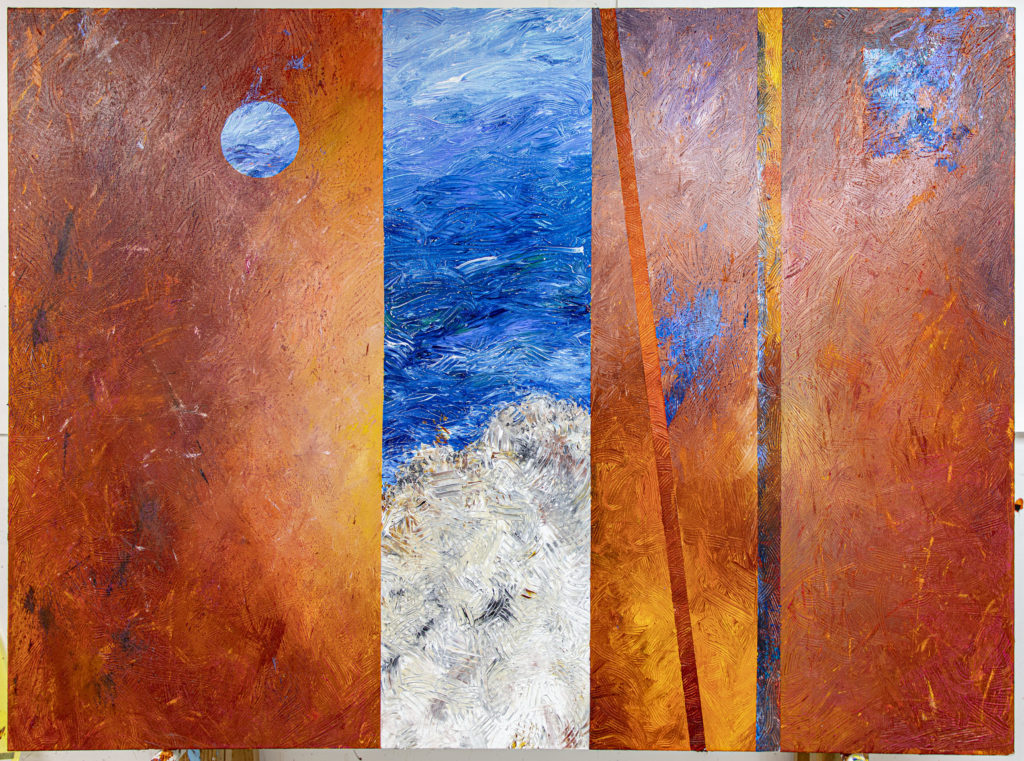 Cuckmere Broken – Sea Through. I couldn't resist making the circle etc. represent Cezanne's sphere, cone and cube as the basis for all painting. A little joke in this 48×36 inch canvas painted with acrylic paint and oil pastel additions
The canvases of the Cuckmere metal now sit with early studies of the Splash Point metal, and alongside Bergen Harbour, something of a breakthrough piece spurred on by knowledgeable criticism – not the moronic 'forlorn frustrated sexuality' critique I had from the Guardian many years ago but a knowledgeable questioning from my peers who also studied at Bath Academy Corsham, my old 'alma mater'. Their educated and sophisticated appreciation of each other's work has borne fruit in my case with a positive loosening and change of direction in what I have been doing. Such is life.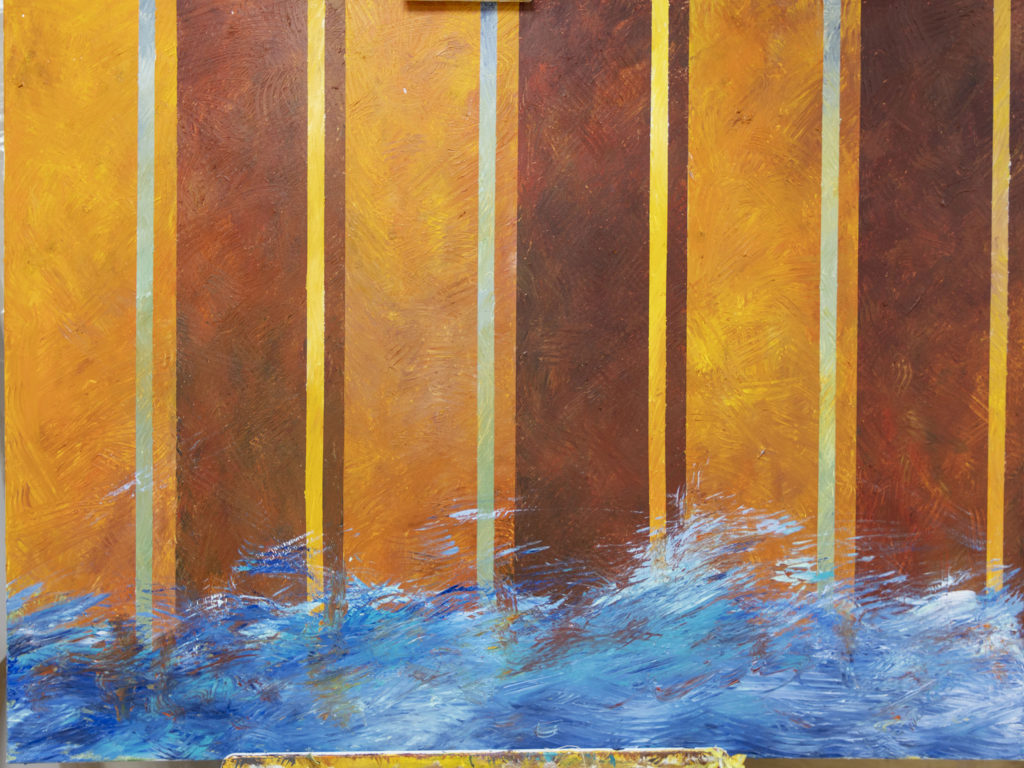 High Tide at Splash Point. Acrylic paint on canvas. 48x36inches
Now the time has come, perhaps, to pause and take stock of the 56 works on paper and ten canvases I have produced. I am pleased with the nature of the changing wall of my studio (which you can follow either through Facebook or twitter) but I would really benefit from showing a selection to stand back and make a judgement, As It happens I have opportunities coming up as part of the Artwave 21 festival which starts in mid-September, so add Seaford to your diary and watch this space for further announcements.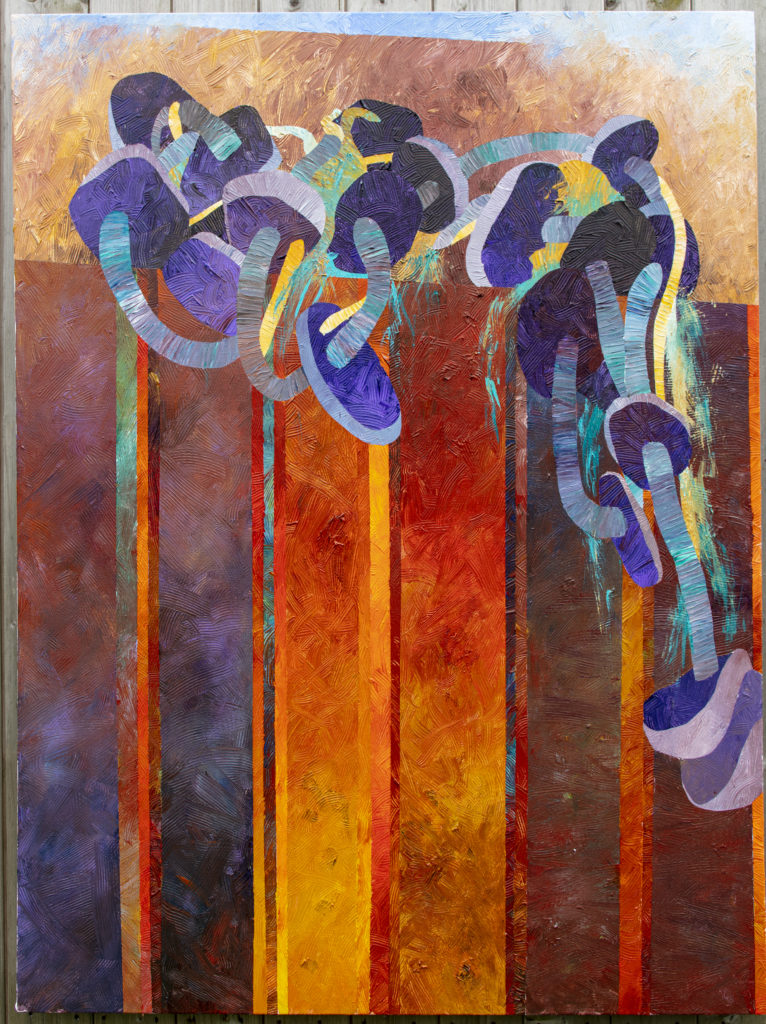 Fisherman's Tackle. Acrylic on canvas 36×48 inches. It is estimated discarded fishing materials make up 40% of the waste in the sea, this chunk of trawl hanging out over the Splash Point BRotS
I am stretching some small canvases to exploit the imagery in a slightly different way so I guess work will continue to flow. I hope you are enjoying what you see, they are priced to sell and every one you do buy supports me in buying more paint etc., so visit the gallery or message me direct.