"but many were small farms, still, in 1974, using shit pails in outside loos. Some of these were even two seaters, something I had only seen before in museums."
It seems that sewerage continues to play a part in my life here in Sussex. In the 1970's it was part of my working life as described above and had echoes when I moved into this house in Seaford just over 7 years ago. It has taken me a few years of playing with the images of the sewer outfall I smilingly refer to as Seaford's 'pier' to get to grips with visual delights it provides. Part of my continuing fascination with seeing the parallels between works of art and what I see around town, along the coast and elsewhere, the 'pier' somehow stayed just out of reach, becoming a part of my own 'BRotS' mythology.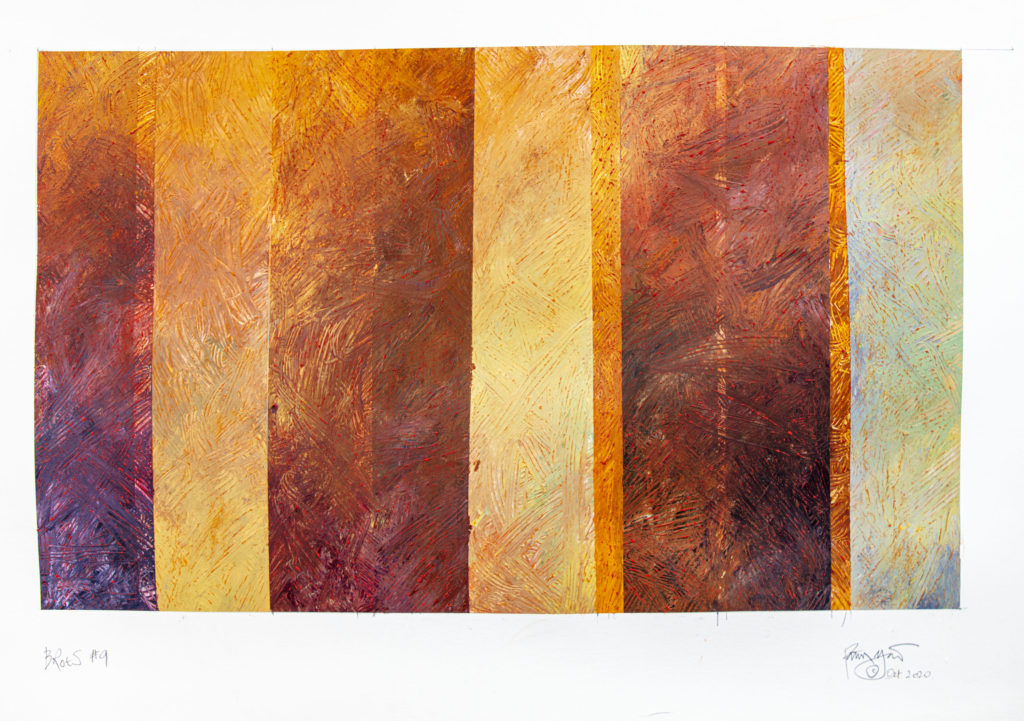 BRotS #9 Acrylic and oil pastel on 300gsm paper primed with 3 coats gesso ground. 33 x 26.5 inches
A critical remark about my work on the Bath Academy of Art alumni site I suppose stung me out of my inertia, a way of working that had become a habit (thank you Colin). The result has been very enjoyable. Did you ever make a dam in a small stream as a child? Do you remember the feeling as the pool you were creating suddenly had enough weight and power to break you flimsy wall of mud, pebbles and twigs? Then you will recognise the feeling of release I have achieved in generating the new works.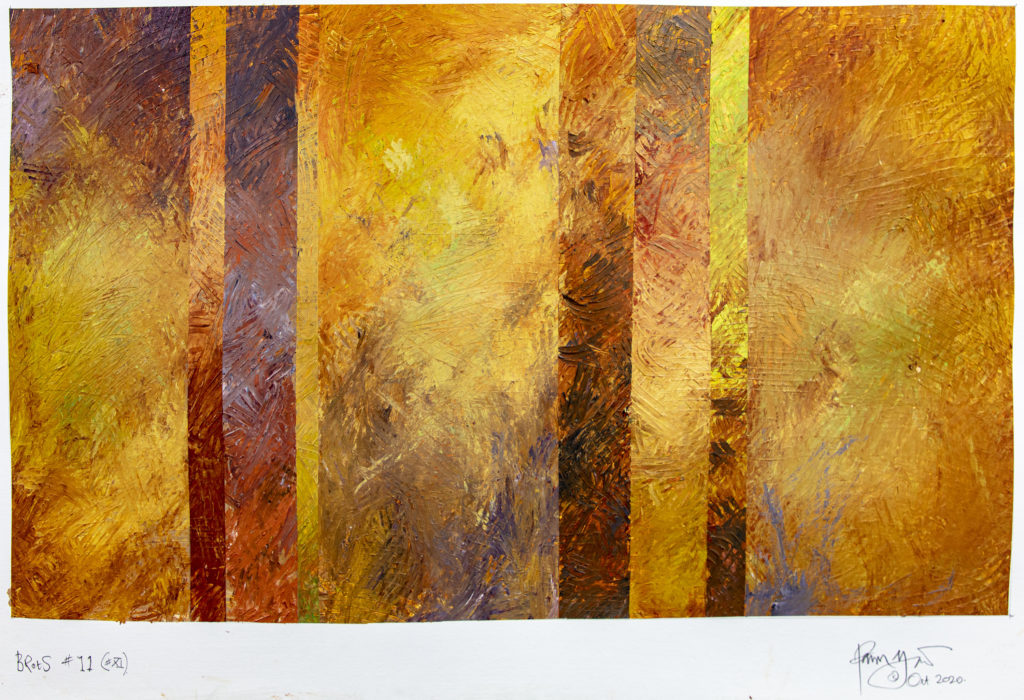 BRotS #11 Acrylic and oil pastel on 300gsm paper primed with 3 coats gesso ground. 33 x 26.5 inches
The first four or five pieces were stilted but the next dozen flowed quickly from my mind onto paper and canvas. The photographs were initially exhibited a few years ago at one of my exhibitions in Seaford and are now pinned to the wall of the studio. I have dozens of these now, some from the Cuckmere mouth where the same defensive structural plating was used. All photos were taken locally and are the product of being continually fascinated by the range of colour variation, time and tidal movement exposed the metal too. I even have some pieces of the metalwork sitting on a shelf in the studio.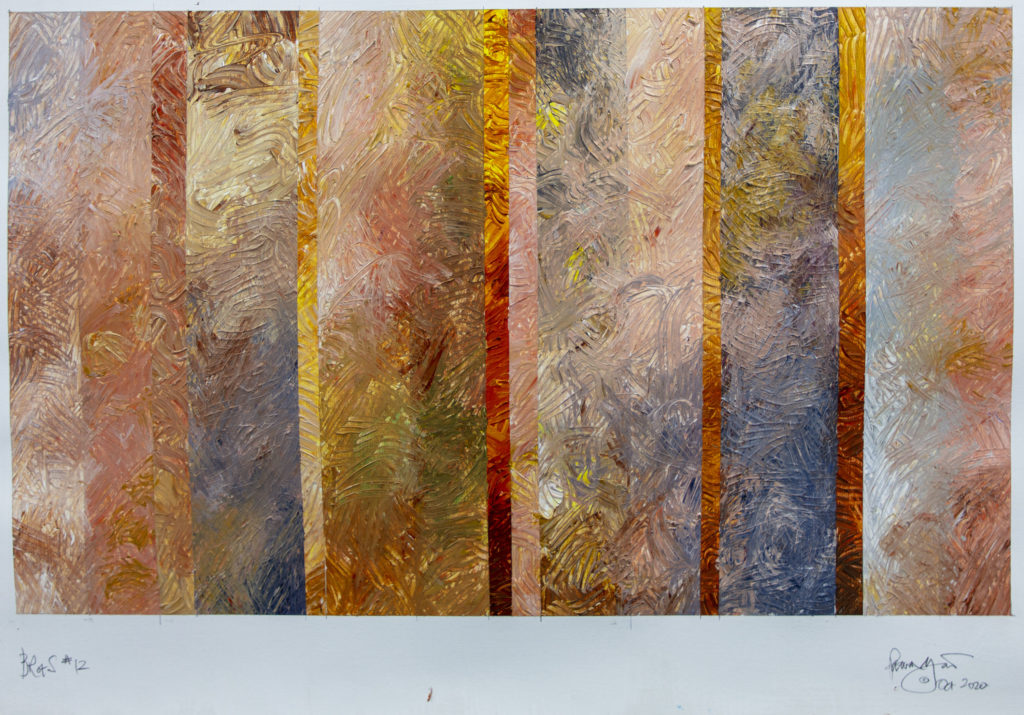 BRotS #12 Acrylic and oil pastel on 300gsm paper primed with 3 coats gesso ground. 33 x 26.5 inches
It is the colour variations that fascinate. The rust changes with how wet it is, whilst lower down the accretion of sea life varies with how long each section is underwater at the varying tidal change (some 21+ feet here on the Channel). Light and a shade as well as construction determine the location of the strips and their tonal relationship as well as colour. What had constrained the exploration before was my fixation on using a specific geometric tool as a 'control' mechanism. Now I was set free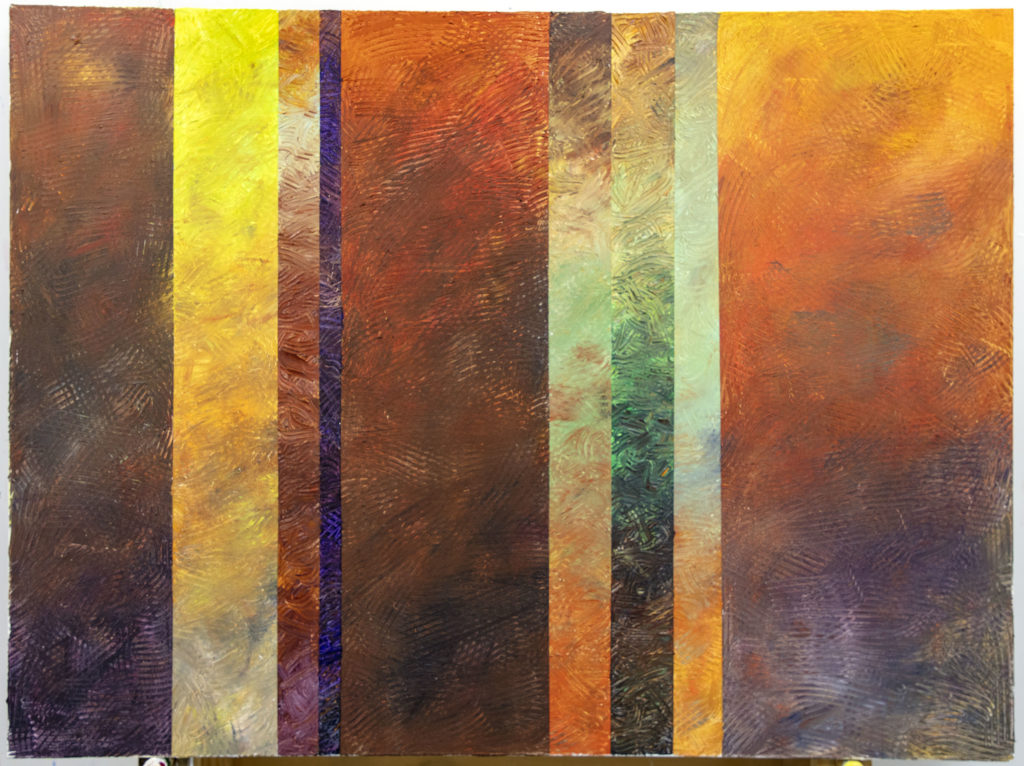 Seaford BRotS painting #3 acrylic on canvas 48 inches by 36 inches
Free of that lock the work is flowing out and onto canvas from the initial paper-based pieces. New tools drive forward the textural exploration of paint that began with the 'Brexit Daisy' (now in a private collection). The mixing on the canvas, the overlay and underpainting have enabled new textural and colour relationships to be developed. One critic said painting #3 (above) had more drawing in it, and certainly the mark making is bolder and more expressive as a result.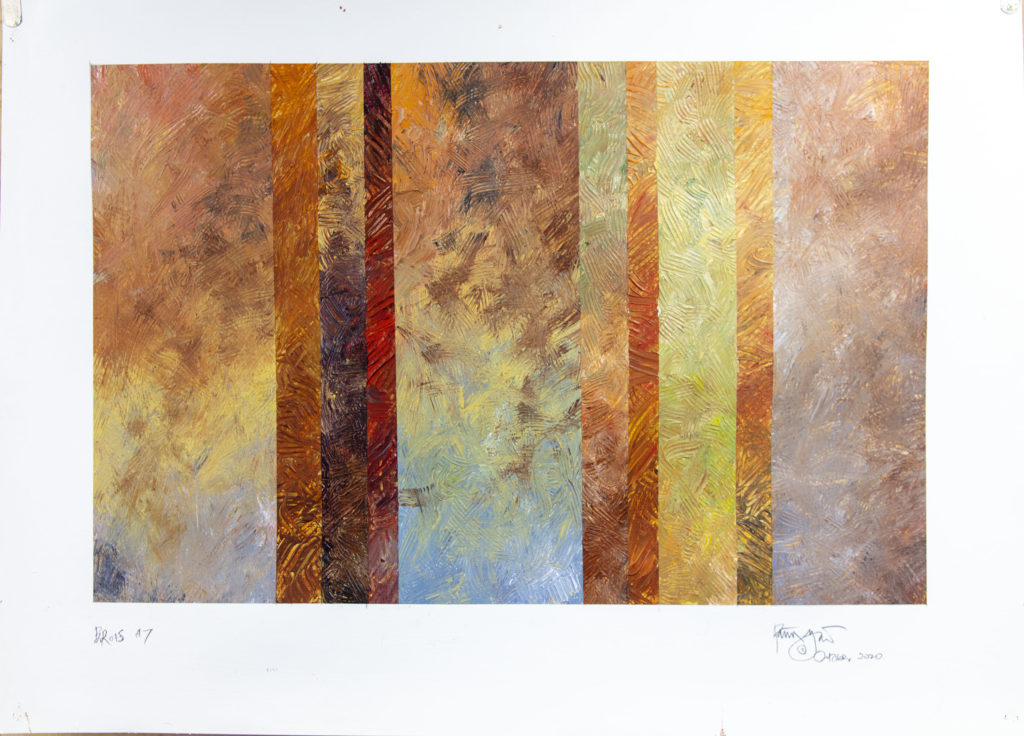 BRotS #7 Acrylic and oil pastel on 300gsm paper primed with 3 coats gesso ground. 33 x 26.5 inches
The stripes only distantly relate to the work of Bridget Riley, whose name I use in homage to her importance to my development in the 1960's. The roots are in op art and in my own art education at Corsham as the BAA alumni are aware. Life has had its shit moments, but the shit no longer flows through Seaford's sewer outfall. The outfall construction feeds my creative juices, and now in rust I trust.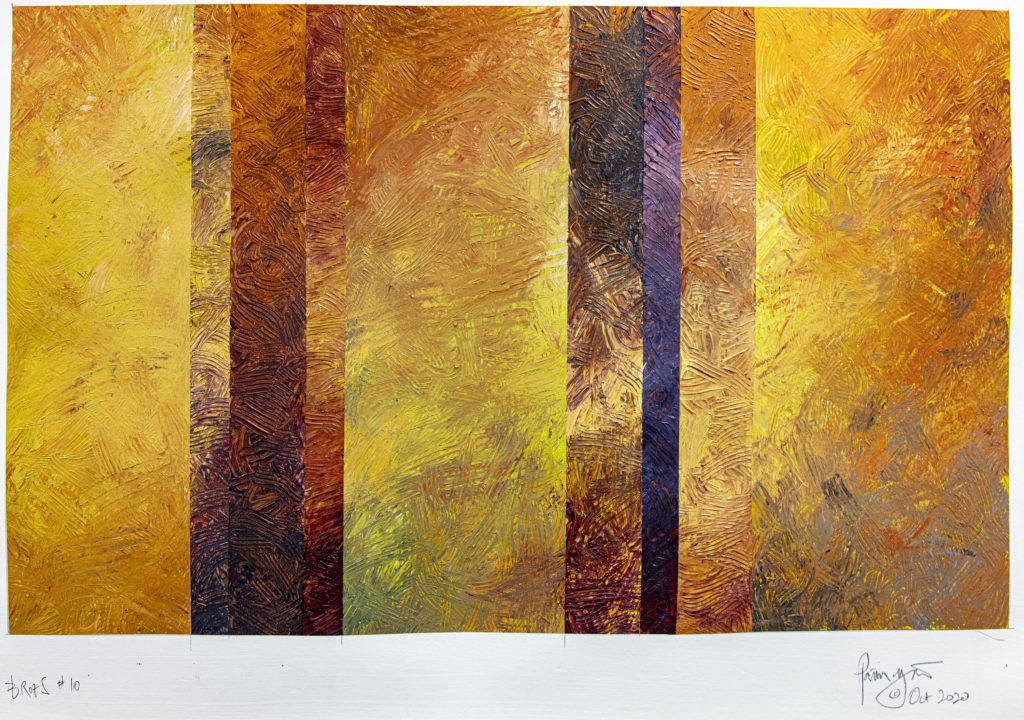 BRotS #10 Acrylic and oil pastel on 300gsm paper primed with 3 coats gesso ground. 33 x 26.5 inches
I hope you enjoy the work, and if you do you can follow my progress through my reports in my studio page at https://www.facebook.com/Patrick-Goff-733331670111069 where each new piece is posted. You can buy from the Gallery here. I'm please the first two canvases have sold quickly but all the works on paper are all still available as is the Seaford BRotS #3 canvas, with more to follow
Stay safe