" Everyone knew the fat had become the new cancer, yet they bellyached about the slimming hysteria and applauded 'real' woman's body. As though no exercise and being overfed was some kind of sensible model. Be happy with the body you've got sort of thing Much better for hundreds to die of heart disease than one person should die of an eating disorder"
From 'Phantom' by Norwegian author Jo Nesbo
Nesbo thinks Norwegian women have become so fat they would become unable to reproduce, depopulating the country. It is not just in Norway that this is becoming a problem. Obesity has become a global epidemic that threatens to overwhelm our medical services.
Many of those who follow my blog will know of my own battles against type 2 diabetes and it may be that the kidney problems and cancer both sprang from, or were exacerbated by, my lifestyle. I was, I admit, tubby, if not just plain fat. Over the years I have defeated cancer too. The series of accounts is contained in these previous posts from the last four years detailing my experience with diabetes, cancer and the treatments, whilst struggling to get a work flow going in the studio. Read "Old Town New War, A Reaffirmation of Life, Walking Wounded, It's All a Performance, Cancer and Honeysuckle, Escaping the Tunnel, Tunnel Vision , Nameless, Unreasoning, Unjustified, Terror, A Second Growth of Honeysuckle, Shock to the System for some of my story.
Throughout I have kept to a dietary programme masterminded by my partner and have steadily lost weight. Finally at the beginning of September I reached the target of a BMI below 25. Weighing in at 12 stone 1 pounds (76.66 kilo) my BMI was 24.8. Then we took a two week break touring Northumberland to see Hadrian's Wall, pilgrimage to Lindisfarne (birthplace of the English Christian church) and Bernard Cornwell's fabled Bamburgh castle. I promptly gained 8 pounds. How could this be?
The lesson is in the food eaten. As I write nearly a week after returning I have already dropped three pounds because of the additional water retention caused by so much salt in the food I have been eating. Chefs, please, don't be so liberal with salt. I even had food with the predominant taste that was salt. Eating out is an inevitable part of travel, and much as we tried to source good food, even where we found it the quantities were large.
There was one hotel we stayed in for three days in Hexham where the food was excellent and quantities right, but I was unable to resist the temptation to have the delicious puddings, or to enjoy a starter bumping up the quantity – well, I was on me ollidaze! So, I am partly to blame. For the other 13 days is was a combination of large quantity and plenty of carbs with no alternative.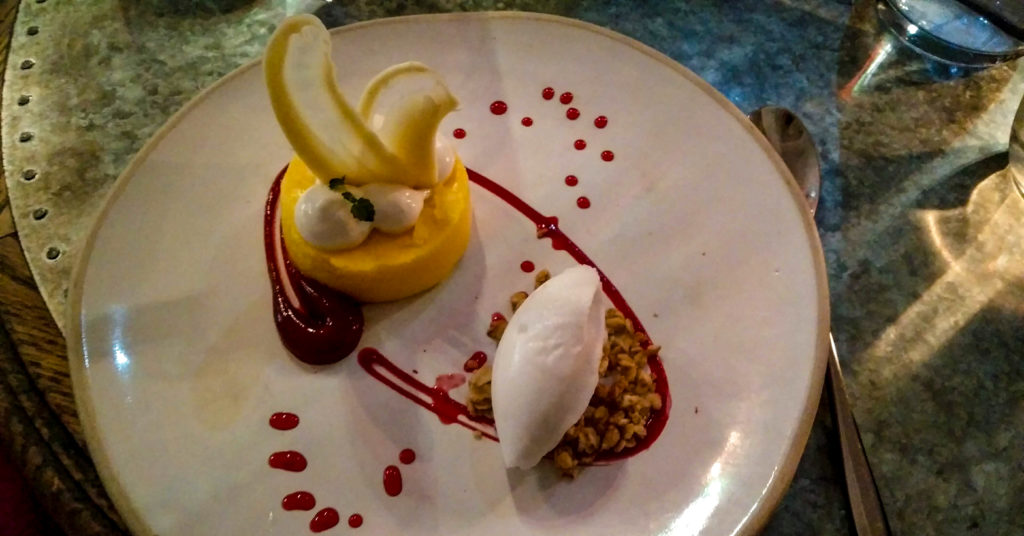 My diet has worked not by calorie counting but by trying to keep carb intake below 80 grams of carbs a day. This has meant portion control, low sugar, not chips, cutting out cakes (sob!) and puddings (sob sob!), sweets of all kinds. Yet English food is rich in all these in large quantity. Most hotels and B&B's offer the usual breakfast cereals, rich in sugar. I read once that the cardboard boxes the cereals came in would be as nutritious if they had the same added vitamins etc.. Rarely was porridge an option, although in Northumberland kippers sometimes were.
Main courses usually came with plenty of potato and of course there were puddings – my great weakness. Jam roly-poly. Bakewell tart. Apple pie. Lemon méringue tart. I could go on, but I don't have to resist them at home because we never have them in the building. Equally we don't eat much manufactured foods and many of the places we ate in served food that was processed in central kitchens off site, with all the additives etc. to give it longevity and cut down waste. Often too it is hard to find a meal that doesn't include chips or a large portion of rice.
It is now generally becoming accepted (except by our country's health advisors in the Department for Health, possibly in thrall to the food industry) that a low carb high fat (LCHF) diet is the right way to go. Fats such as butter, long demonised, are now being shown to be heathier than many of the substitutes offered. Whilst research is showing that in many ways granny did know best, our urban habit of 'take-outs' is slowly killing us. That and too much booze – I rarely drink these days as it contains so much sugar.
The quote from Nesbo may be extreme. Obesity in men leads of a high percentage who cannot perform sexually anyway, who when they look down cannot see their own private parts for their stomachs, but obesity is already leading to a lower life expectancy across the UK. Earlier deaths through obesity linked diabetes are also leading to increased blindness and amputations.
The Romans and our Victorian ancestors may well have had a healthier diet than we do. One study I saw seemed to suggest that Victorian life expectancy was higher than ours if they survived past 5 years old despite their lack of so many of the safety nets and conveniences of modern life. Ask yourself if you are fat. Don't mess about with euphemisms or pc language, your life is at stake. Use the NHS BMI calculator, be honest, no-one will know but you.
Then do something about it if you need to. I did, and with a return to health came a return to vitality in the studio.